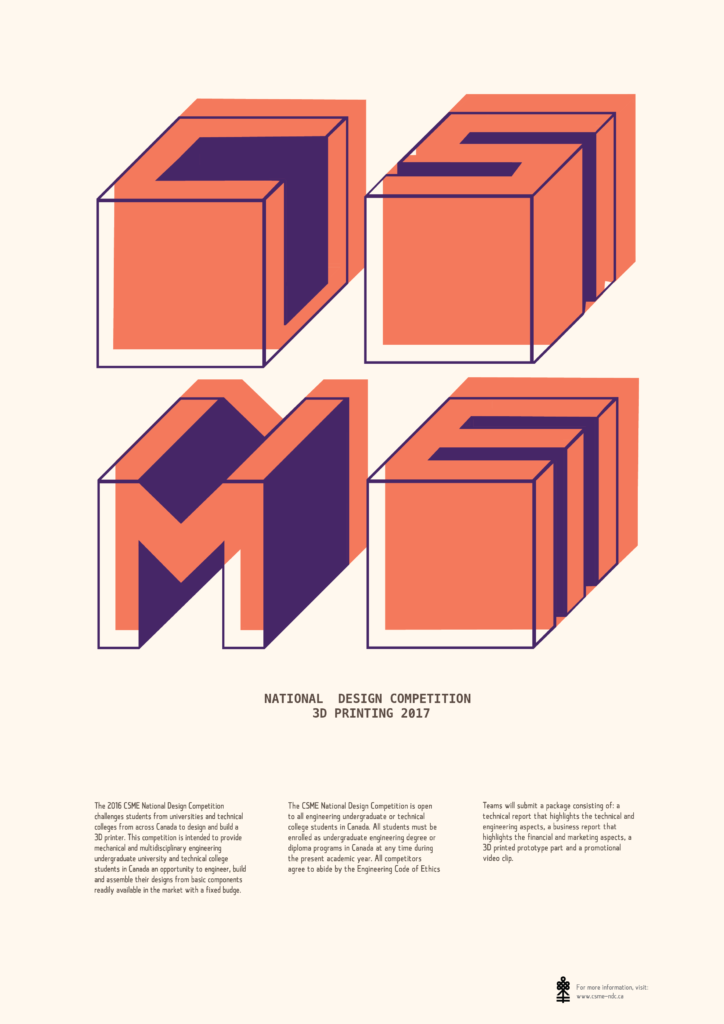 The 2017 CSME National Design Competition challenges students from universities and technical colleges from across Canada to design and build a 3D printer. This competition is intended to provide mechanical and multi-disciplinary engineering undergraduate university and technical college students in Canada an opportunity to engineer, build and assemble their designs from basic components readily available in the market with a fixed budget.
Eight semi-final design projects will be selected and invited to the 2017 CANCAM conference to present their designs and have a chance to win one of the grand prizes.
The third edition of the CSME National Design Competition is open to all engineering undergraduate or technical college students in Canada. All students must be enrolled as undergraduate engineering degree or diploma programs in Canada at any time during the present academic year. All competitors agree to abide by the Engineering Code of Ethics.
Teams will submit a package consisting of: a technical report that highlights the technical and engineering aspects, a business report that highlights the financial and marketing aspects, a 3D printed prototype part and a promotional video clip.
Key Dates
Educational Institutions must register their team by November 30th, 2016
The design package must be submitted for committee review by May 1st, 2017
Semi-finalists will be announced on May 15th, 2017
Please send the completed registration document to design@lassonde.yorku.ca